Insurance claims can be a stressful and confusing process for policyholders. That's why it's so important to communicate effectively throughout the accident management process.
As technology advances, policyholder expectations are changing. In our 2023 Customer Journey Report we look at general service trends and consider their application for accident management and insurance claims. This blog gives an overview of three key things to include in your claims communication strategy.
So, what are the claims communication trends to watch out for in 2023? And how do they apply to the accident management and claims communication strategies?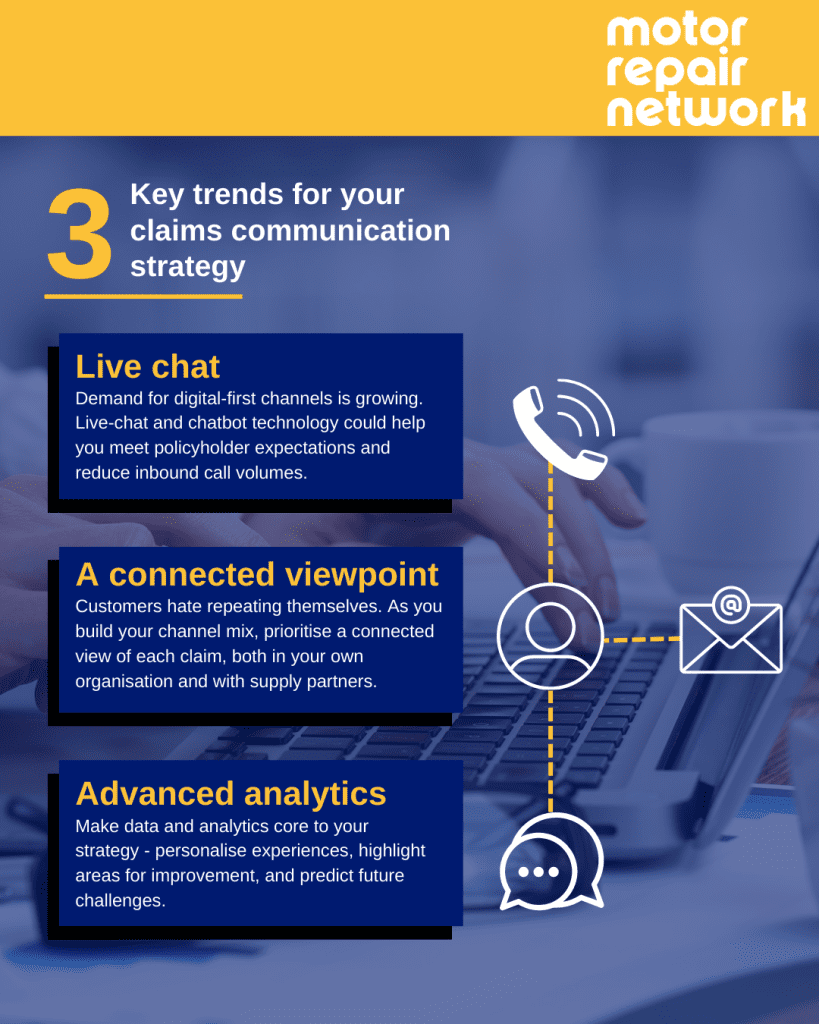 The growth of live chat
In 2019, Microsoft's Global State of Customer Service Report showed that messaging was the fastest-growing B2C channel.
When asked how they would prefer to engage with a business, respondents still placed telephone at number one, but live chat was a close second.
To get ahead of this trend, many businesses are looking to enhance their digital channels. A 2021 survey conducted by Forrester found that 47% of Service Leaders are planning to introduce new digital channels to accomplish their support objectives.
Heidi Logie, Programme Director, Motor Repair Network said: "The way people communicate with their friends, family and colleagues is changing. People are much more comfortable with instant messaging, and they want to interact with businesses on the same channels they use in their everyday life.
"Interestingly, consumers are also more open to automated service options as the technology that powers 'chatbots' becomes increasingly sophisticated."
Shared view across multiple channels
"Customers want fast, efficient service, but they also want personalized customer care, whatever the channel of engagement." – McKinsey & Company
As people seek to interact with brands across multiple channels, it's important that each interaction feeds into a single view of customer requirements.
40% of people in the Microsoft study reported that having to repeat information was the most frustrating aspect of poor service.
Heidi commented: "Consumers want to choose the channel that suits them, and the same person may get in touch in two or three different ways. In the claims management industry they may interact with various service providers throughout the repair journey.
"A connected system with real-time updates is crucial to ensure that everyone is fully informed on what's happening."
Emerging trend for advanced analytics
There's growing recognition of the value of data and analytics in driving a great customer experience.
At a basic level, this could mean overlaying existing data on SLA performance against incoming call volumes and customer feedback. This demonstrates where more proactive communication is needed or identify training requirements.
The next stage is to develop more sophisticated data models that can help identify ongoing changes, supporting the ability to adapt the customer journey as conditions change.
Finally, the introduction of AI-driven tools is making predictive analytics a reality. This technology will enable a personalised experience that resolves issues proactively before the customer even knows they exist.
Daniel Woods, IT Director, Motor Repair Network said: "This is an exciting area of development in the world of customer experience. Using data to paint a picture of the customer journey as it is right now, highlighting areas for improvement, and eventually predicting future challenges.
"As businesses develop more digital tools to support the claims journey, data and analytics should certainly form part of the strategic planning process."
For more information and insight on claims communication, download our free report here.