Experts predict that the number of EVs and hybrid vehicles on UK roads will rise to over 11 million by 2030*. This shift is bound to bring enormous changes for everyone involved in the automotive industry – from drivers and insurers right through to repairers.
Here we answer some common questions surrounding electric vehicle repair, including the challenges faced by repairers, and how these can be mitigated.
Is EV repair more difficult?
On the face of it, EVs should be no harder to repair than petrol/diesel vehicles. However, many of their parts and components, not to mention the battery, are drastically different from those found on petrol/diesel vehicles. EV repair therefore requires specialist training, access to the right parts, and often more advanced repair technology.
Can EVs be repaired by a regular mechanic or bodyshop?
EVs can only be repaired by mechanics and technicians with specialist training and safety equipment. This means that many local repair centres may struggle to cater for EV drivers, requiring them to be taken to a specialist when repairs are required.
Are EVs harder to maintain?
Contrary to popular belief, the everyday maintenance of electric vehicles can actually be easier than petrol/diesel cars. Because EVs have fewer moving parts, the service intervals are often spaced further apart than combustion-powered vehicles.
In fact, Renault recommends a service interval of 18,000 miles on its all-electric Zoe model, compared to just 9,000 on its petrol and diesel vehicles.
EV & Hybrid Repair Requirements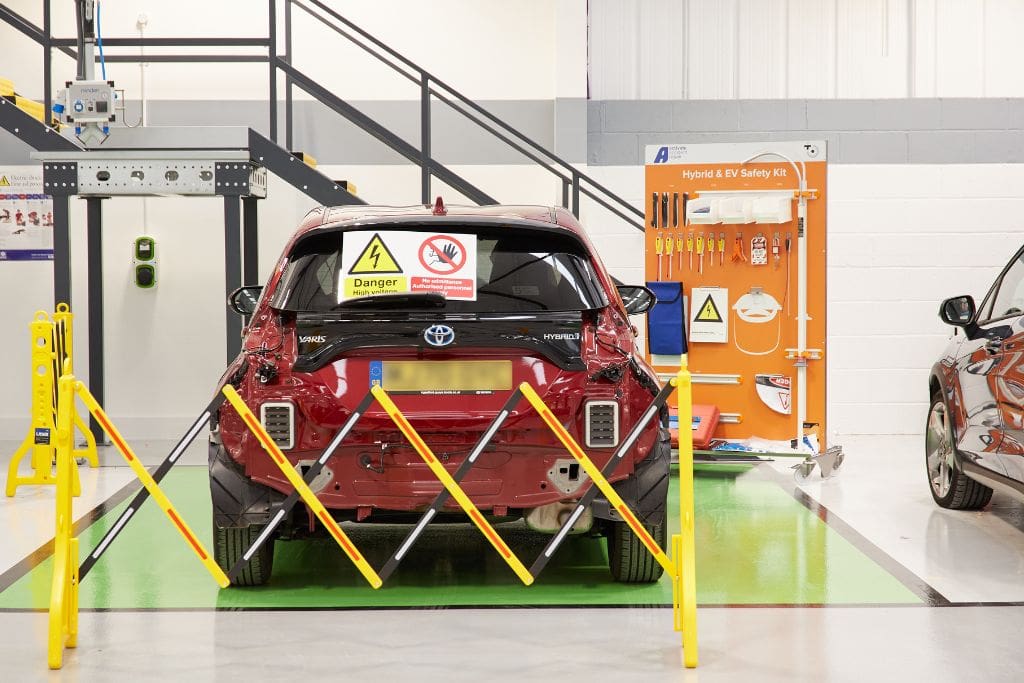 EV repair has a number of different requirements when compared with fossil-fuelled vehicles. These include:
1 – An EV-specialist repairer
The different parts, components, and technologies fitted to EVs require specialist training to understand and repair. This means that EVs will often need to be taken to a specialist repair centre when they need fixing.
Because of our hybrid repair network, our customers have access to UK-wide coverage for EV repairs. Our own Activate Accident Repair centres also have dedicated EV bays, with the capacity to repair plastic and aluminium bodywork on electric/hybrid vehicles.
We assess customers' repair requirements at triage level, allowing us to allocate their vehicle to the most appropriate repairer within our network for right-first-time deployment.
If an EV's battery needs repairing, it will usually have to be taken to the vehicle's manufacturer. The powerful batteries used by EVs are complex and expensive, requiring specialist parts, expertise, and equipment for their repair.
2 – Access to the right parts
Electric vehicles are still relatively new to our roads. This means that parts can often be difficult to get hold of – especially aftermarket or secondhand.
To mitigate these challenges, repairers need access to suppliers who can deliver on the increased demand for EV & hybrid parts. Without these supply chain partnerships, repairers will quickly see delays in vehicle turnaround, impacting all parties involved in the process.
Our repair network is supported by our own Activate Parts supply chain, which partners with a number of suppliers to secure access to parts for all vehicle types, including EV and hybrid.
3 – EV repair technology & safety equipment
EVs often require more advanced repair technology, and specialist safety equipment. This includes equipment for reprogramming onboard software, safety apparatus & PPE, and EV-compatible diagnostic equipment.
For repairers, this often means making significant investment in new tools and equipment, as well as training technicians in their use. While this is a big commitment for many, it's a necessary part of adapting to the increased prevalence of electric/hybrid vehicles.
4 – Facilities for ADAS recalibration
All new vehicles, including EVs, have ADAS (Advanced Driver Awareness Systems) fitted as standard. This software uses a combination of cameras and onboard sensors to monitor the area around the vehicle, and prevent accidents by correcting driving errors.
ADAS needs recalibrating regularly – such as after an accident, or even following everyday repairs like a tyre change or brake pad replacement. If this isn't carried out, the safety features will fail to work properly, increasing the risk of an accident.
In Summary:
Electric Vehicles (EVs) are becoming increasingly popular in the UK. Experts predict that there will be over 11 million electric/hybrid vehicles on our roads by 2030.
This change brings a number of challenges for repairers, due to the key differences in parts and technologies fitted to EVs.
In order to cater for EVs, repairers will need to consider a number of their unique requirements, including:
Specialist EV training for repair technicians
Access to the right parts through their supply chains
Investment in in-house EV repair equipment
Facilities for ADAS recalibration
Through our hybrid repair network, our customers have access to UK-wide EV-specialist repair centres throughout the UK. Their repair requirements are assessed at triage level, allowing us to allocate their vehicle to the most appropriate repairer.
To learn more about the impact of Electric Vehicles on the repair industry, download Activate Group's free EV Repair Report here: