The vehicle repair industry is currently facing significant delays, increasing the time it takes for insurers to get their customers back on the road post-incident. Here we discuss why these delays are happening, and how insurers can take action to speed up the accident repair process…
What's causing the current accident repair delays?
Industry-wide challenges are causing delays right across the automotive industry – from manufacturing to repair services. Here are the factors which are most exacerbating accident repair delays:
Parts supply chain issues
Delays in new parts manufacturing are making it difficult for repairers to access the parts and components they need. This means vehicles are often kept at bodyshops for longer while they wait for parts to arrive, overwhelming on-site capacity.
UK-wide repair capacity challenges
The COVID-19 pandemic saw a large number of UK bodyshops close their doors permanently. The industry is yet to recover from this sudden loss of capacity, leaving many bodyshops overbooked, and often exceeding on-site vehicle capacity.
How can insurers speed up the accident repair process?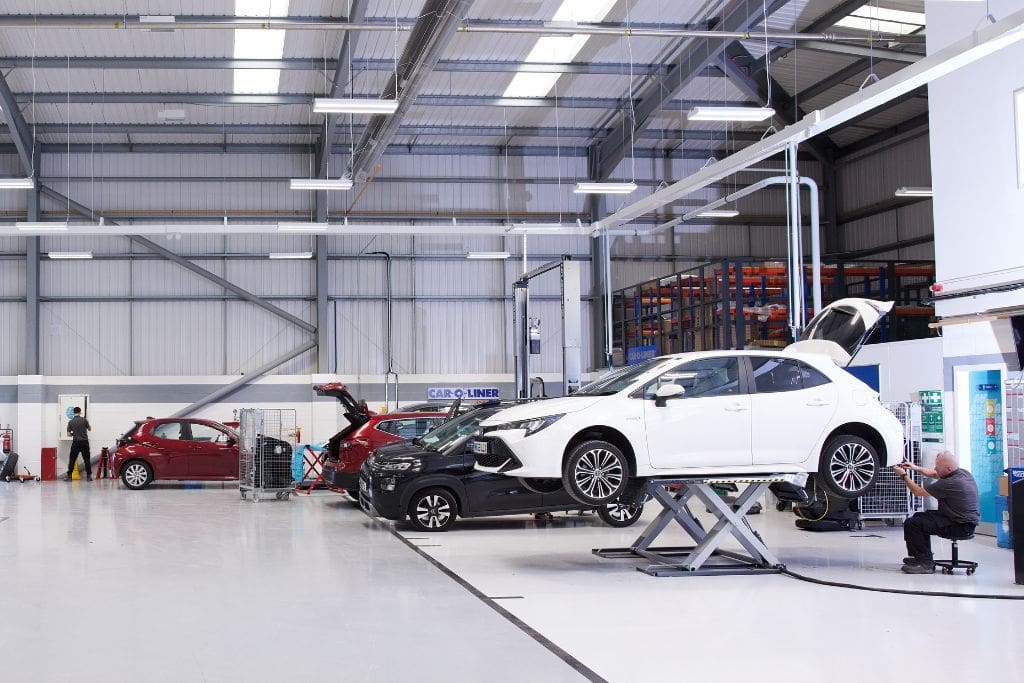 Despite the pressures currently being faced by the industry, insurers can take action to minimise accident repair delays for their customers, including:
#1 – Harnessing 'green' and aftermarket supply chains
Delays in accessing new parts can be mitigated by harnessing 'green' and aftermarket supply chains. This includes 'nearly-new' parts, such as those recovered from total loss vehicles, and compatible components made by aftermarket retailers.
This helps to reduce the amount of time vehicles spend on-site waiting for parts to arrive, alleviating capacity challenges, and getting vehicles roadworthy quicker.
This is especially useful with cosmetic parts, such as doors or wing mirrors, which can be easily salvaged from total loss vehicles, without impacting the safety of the repair.
Green parts are quality checked in-line with Thatcham guidance, and often come with extended warranties – making them just as practical as new parts in many circumstances.
#2 – Promoting right-first-time service deployment
Promoting right-first-time service deployment is a core principle for speeding up the motor claims process. This means understanding a vehicle's repair requirements in full so it can be deployed to the most appropriate solution the first time around.
This can be achieved by harnessing qualitative incident reporting data, such as images/videos of a vehicle's damage, and using these to inform engineering decisions. It's important to get as much high-quality data as possible at First Notification of Loss (FNOL) stage, as this will help you to identify which services a vehicle needs to be made roadworthy.
#3 – Streamline your incident reporting process
Streamlining your incident reporting process with an eNOL (Electronic Notification of Loss) solution will make it quicker and easier for customers to report vehicle damage as soon as it occurs. Drivers are also able to upload pictures of their vehicles' damage, increasing the quality of your triage data.
This means repair solutions can be deployed quicker, and more accurately – reducing the time customers spend waiting for the repair process to begin. It also increases the chance of capturing any third parties, allowing insurers to control the costs associated with at-fault claims.
A strong FNOL process is a crucial part of delivering right-first-time service deployment, making eNOL tools a valuable asset for insurers looking to speed up vehicle repair.
Discover Activate Initiate – Our White-Label Incident Reporting Web-App for Insurers
#4 – Partnering with EV & ADAS-ready repairers
To avoid unnecessary delays to vehicle repair, it's important to ensure your repair network includes EV and ADAS-ready repairers.
All new vehicles come with ADAS technology fitted as standard, and will need this recalibrating after most repair procedures. Failure to do so will result in the system failing to work properly, exacerbating delays, and compromising the safety of the repair.
Repairers also need specialist safety equipment to work on electric vehicles, such as insulated tools and mats in a dedicated EV-bay.
Having this equipment in-house ensures your repair network is able to easily cater for all vehicle types – minimising the risk of unnecessary delays.
#5 – Using mobile repair for smaller fixes
Mobile repair can be an effective solution for tackling accident repair delays, especially when the work required is purely cosmetic. Using mobile technicians helps to reduce the number of cars on site at bodyshops, alleviating capacity challenges, while providing some customers with a quicker repair solution.
A right-first-time deployment strategy is key to utilising mobile repair. This means using incident data to identify vehicles which may qualify for repair by a mobile technician, and deploying this solution quickly.
This benefits both insurers and their customers – reducing demand for bodyshop capacity, while giving customers a more flexible way to have their vehicle repaired. Mobile technicians can often operate from a customer's driveway or place of work, increasing accessibility.
In Summary: Speeding Up Accident Repair
Industry-wide challenges are leading to significant delays in the accident repair process, impacting insurers and their customers alike.
International parts supply chain issues, coupled with the loss of UK repair capacity during COVID-19, are making it harder for repairers to start and complete repairs in a timely manner.
Luckily, there are steps insurers can take to minimise the impact of accident repair delays, including:
Harnessing green/aftermarket parts supply chains
Promoting right-first-time deployment of repair services
Streamlining the incident reporting strategy
Partnering with EV and ADAS-ready repair centres
Using mobile repair where possible to mitigate capacity challenges
Mitigating these delays promotes a more positive experience for insurance customers, as well as allowing insurers to minimise the costs associated with a lengthy repair process.